Delta by Marriott - Fargo
Fargo, ND
Posted August 12, 2019
Housekeeper
The Delta by Marriott Fargo, proudly managed by National Hospitality Services is the perfect choice for business or leisure. From the moment you arrive, your comfort will be our pleasure. Known for its elegance, class and genuine hospitality, the Delta by Marriott features 185 guest rooms, including 117 two-room suites. It is a full-service property featuring Urban 42 Restaurant and Lounge, Starbucks and banquet facilities.
Job Overview
The Housekeeper is responsible for maintaining the highest standards of cleanliness in all guestrooms. He or she must work to promote safety in all guest areas by following strict procedures with respect to passkeys, entry to guestrooms, and reporting any suspicious activity. Housekeepers must demonstrate a commitment to maintaining high quality standards and attention to detail.
Duties and Responsibilities
· Thoroughly clean all room as assigned in the required time standards.
· Care for all uniforms, equipment and supplies issued by the Executive Housekeeper.
· Communicate with staff as directed on the status of all cleaned room.
· Maintain cleanliness of public areas.
· Report any observed damage, unusual happenings and safety concerns to the Executive Housekeeper.
· Maintain a solid understanding of housekeeping and laundry supplies.
· Inform management of hazardous situations, emergencies or security threats.
· Respond in a courteous and prompt manner to all guest question and/or concerns.
· Turn in all "lost and found" items as directed listing the room number, the day it was found and the name of the person who found it.
· Ensure that no occupied room is left open and unattended when being serviced.
· Promptly report all maintenance concerns and follow up on repairs.
Required Skills and Experience
· Ability to work in a fast-paced, high pressure environment.
· Strong attention to detail.
· Ability to shift and manage multiple priorities.
· Adaptable to change.
· High level of flexibility regarding overtime during times busy periods as required by the business.
Compensation: 11
Delta by Marriott - Fargo
185 Room Hotel
Our Hotel
At Delta Hotels by Marriott, we create a seamless full-service hotel experience that has been thoughtfully designed with the essential needs of frequent travelers in mind. Enjoy services and amenities that provide smart value including fast free Wi-Fi and complimentary bottled water everyday. 
MEETINGS AND BANQUETS 
From our professional Board Rooms, to the grand Crystal Ballroom or any of our 13 breakout rooms, you are sure to find the ideal setting for your event. Our flexible meeting space is state-of-the-art and designed to meet all your needs. You can choose from a wide variety of room styles and setup can be customized to meet your specific requirements.
WEDDINGS 
Dream weddings don't just happen, they are planned. Our certified Marriott Wedding Event Specialist is trained to make your wedding a unique and unforgettable experience. Legendary elegance and lavish décor combined with impeccable service make the Delta by Marriott Fargo the first choice for brides and grooms.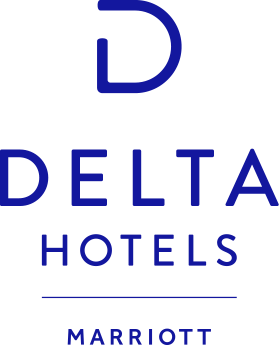 1635 42nd Street South
Fargo, ND 58103