Delta by Marriott - Fargo
Fargo, ND
Posted August 12, 2019
Guest Service Representative
The Delta by Marriott Fargo, proudly managed by National Hospitality Services is the perfect choice for business or leisure. From the moment you arrive, your comfort will be our pleasure. Known for its elegance, class and genuine hospitality, the Delta by Marriott features 185 guest rooms, including 117 two-room suites. It is a full-service property featuring Urban 42 Restaurant and Lounge, Starbucks and banquet facilities.
Job Overview
The Guest Service Representative works at the front desk of the hotel greeting and checking in arriving guests and checking out departing guests. Providing excellent customer services to current and future guests and making reservations for incoming phone calls or walk-ins.
Duties and Responsibilities
Make a daily reservation count for arrivals and departures to direct actions in selling rooms.

Block all incoming reservations based on guest request and availability.

Block arriving reservations of all groups if deemed necessary, pre-register, place key in envelope and note room number on envelope, assuring a smoother check-in.

Register all incoming guests, making sure that all pertinent information is obtained, registration card is completed and method of payment is established.

Accept and record credit card and photo ID information on guest accounts and provide change for guests as needed.

Assist in other departments such as Breakfast, Social, Housekeeping, Laundry etc. as needed.

Maintain the cleanliness of the hotel bathrooms, lobby and other public areas.

Anticipate guest needs, respond promptly, and acknowledge guest regardless of how busy and whatever time of day.

Maintain positive guest relations at all times.

Address and resolve guest complaints and ensure guest satisfaction.

Document all guest requests, concerns and communication information to responsible personnel for proper handling.

Prepare daily cash report, balancing payments and disbursements with machine totals; prepare deposit slip and provide assistance to the Front Desk Manager by providing him/her with summary of daily bank status. Request change as needed.

Maintain confidentiality and security of proprietary company information, correspondence reports and files.

Handle all incoming and outgoing reservation requests.

Care for lost and found items as directed by the General Manager.

Perform other duties as assigned by management.
Required Skills and Experience
Highly energetic, go-getter, motivated individual

Willing to take initiative and work with little direction.

Previous hospitality industry experience preferred but not required

Excellent interpersonal and communication skills with strong customer/client focus essential

Strong problem-solving skills

Ability to work in a fast-paced, high pressure environment

Ability to shift and manage multiple priorities

Results driven focus and ability to work through to completion in a timely manner

Adaptable to change

High level of flexibility regarding overtime during times busy periods as required by the business
Compensation: 13
Delta by Marriott - Fargo
185 Room Hotel
Our Hotel
At Delta Hotels by Marriott, we create a seamless full-service hotel experience that has been thoughtfully designed with the essential needs of frequent travelers in mind. Enjoy services and amenities that provide smart value including fast free Wi-Fi and complimentary bottled water everyday. 
MEETINGS AND BANQUETS 
From our professional Board Rooms, to the grand Crystal Ballroom or any of our 13 breakout rooms, you are sure to find the ideal setting for your event. Our flexible meeting space is state-of-the-art and designed to meet all your needs. You can choose from a wide variety of room styles and setup can be customized to meet your specific requirements.
WEDDINGS 
Dream weddings don't just happen, they are planned. Our certified Marriott Wedding Event Specialist is trained to make your wedding a unique and unforgettable experience. Legendary elegance and lavish décor combined with impeccable service make the Delta by Marriott Fargo the first choice for brides and grooms.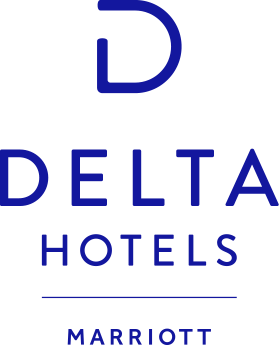 1635 42nd Street South
Fargo, ND 58103